Background
Users have come up with creative ways to participate in the platform together over the years that Worlds Chat has been around. These activities are meant to help foster a sense of community for both old users and new. In the early history of the platform, these events were scheduled on official Worlds websites. Nowadays, those calendars hosted on official Worlds Inc. domains are outdated, but many events continue to be hosted and participated in to this day.
Hosts
Events have typically been hosted by members of the community who had applied and subsequently been accepted to be community leaders. If accepted, the volunteers would get a special account that would always have Host- as the start of the username and be highlighted in yellow. Host accounts can also disseminate messages in the chat to all active users, which differs from the standard user experience of only sending chats to other users that are sharing the same Room and Dimension. Lastly, Host accounts have the ability to moderate. They can apply temporary bans ("bootings") on users that are violating the Terms of Conduct.
In the early 2000s, there were Hosts "on duty" most of the days of the week at varying time zones (as evidenced in this example), but in recent years there are not enough community leaders and a large enough user base to both support and necessitate that coverage. The community leader registration is more informal as of 2020, since the registration form that used to exist is no longer active.

Guests
Another type of Worlds account, these VIPs would have a pink Guest- nametag and participate in one-time events. If a Guest is participating, they are usually the reason for the event taking place. Guest accounts have not been seen on the platform since the early 2000s.
Staff
A self-explanatory Worlds account, these users have an aqua nametag and help with not just events, but also bug reports, community management, and permanent solutions to violators of the Terms of Service (like IP bans if applicable). You can see an example of this Worlds account with Sir-Gemini in the image above.
Recurring Events
World Tours
The host of the tour invites attendees to add the host as a friend. After a countdown, the host instructs everyone to teleport to the host. In this way, the host guides users through custom worlds or rare locations within Default Worlds.
Trivia
There have been a lot of different iterations of trivia over the years -- general trivia, entertainment trivia, music trivia, etc. Trivia in general seems to be a constant on formal and informal Worlds event calendars alike.
During a lull in activity on Worlds during 2015-2018, Trivia was not active due to lack of interest in the platform. In 2018, Host-AngelEyes brought the Trivia event back, and it has been running since.
As of May 2020, Trivia is hosted on Saturdays and winners get to win free VIP subscriptions of varying lengths: first place wins 6 months free VIP, second place wins 3 months free VIP, and third place wins 1 month free VIP.
Comedy
Another perennial event, comedy is a very fluid event whose format depends on the host and members at the time. This event is typically held in an Auditorium or stage world. It may consist of bits done by a whole group or by individual users.
Poetry and Storytelling
Just as old as trivia, poetry and storytelling has been a popular event over the years. This event is typically held in an Auditorium or stage world. Users can whisper the host to get on the poetry reading list. The host then calls people up to the stage one by one. Only the current reader can be on the stage. The event features both original poems, poems attributed to other authors, stories, and ghost encounters.
Workshops
Poetry workshop events shift the format from an "open mic"-type event to a discussion or lecture. The intent of the workshop was to build skills and resources used for poetry / storytelling.

Avatar Classes
Pioneered in the years following the release of WorldsPlayer (and rendering Worlds Chat Gold obsolete) around 2001, avatar classes were held by members of the community like JetJanitor, ChicksBitz, Lucyinthesky, Batman11, Thought Knox, Heartsong, A-plus, and Num_lock. Over the years, this community would share and improve on the knowledge of avatar manipulation.
The brains behind those innovations in avatars are discussed in a "museum"-type world called TimeQuake. Some worlds have also been created as classroom environments, like JetJanitor's City Life, which has a room with an extensive avatar tutorial. These educational rooms or worlds often feature mirrors, texture tools, and basic avatars displayed as examples.

WorldShaper Classes
Originally a paid feature only acquired through a VIP subscription and exponentially more complex, WorldsShaper classes were not nearly as common as avatar classes.
As with avatar classes, some worlds have been created as WorldsShaper classroom environments, like Shaper Tutorial Hub by Pehtomi and VR Land by Num_Lock.
This event consisted of a guessing game aka music trivia. A host would write out lyrics or information and players would try to name what song it was.
This event was suggested by a user named Woolvesie in 2003 and consisted of a sort of scavenger hunt challenge for particular locations within worlds.
The rules are:
"Be the first to e-mail in all 4 locations of the pictures below World, room and brief description of location and WIN 3 Months Free VIP"
This event was held in the early 2000s and had all of the same rules as the TV game show called Hollywood Squares. The event would take place on a world created in the format of the game show, with giant squares avatars could walk into.
One of those worlds is still around by the fitting name of Hollywood Squares World, and is also a Ground Zero which allows for easily inviting newcomers in to participate.
This one is a different world that was also a venue for Hollywood Squares, but it has been lost to time, so be on the lookout for it!
http://members.lycos.co.uk/apparition1/worldssquares/worldssquares.world

This event consists of discussing a particular form media, whether it be a particular author, book, film, etc. When Mr. Zombie would host this event, it consisted of the following itinerary:
"Discuss one specific author. His/her merits and subject matters.
"Discuss one book, or series of books, by that author, again its subject matter and merits.
"Discuss the film based on that book ... it's closeness to the original story, etc; However, if no film has been produced we will discuss another, hopefully topical, film."
Hide and Seek
In this event, people disable their nametags and arrive at a central location chosen by the host of the event.
There are two roles: seekers and hiders. Seekers look for the hidden avatars, and win if they can find every single hider in the chosen world. Hiders choose a spot during hiding time and must remain there undetected for the course of the game in order to win the game. Those interested in being seekers whisper the host and then one to three seekers get chosen, depending on the amount of hiders present that day.
An example ruleset for Hide and Seek:
No teleporting
Regular avatars, not small or invisible
Do not use Shaper
Hide in the chosen world
No moving after the seeker starts looking
Tell the host you are participating, or you aren't participating! 5 min hide time; Hide and seek lasts an hour; Seeker- whisper the person you found when you've found them, and then whisper the host their username!
Special One-Time Events
Seasonal Ground Zeros
Ground Zero re-designs were released for holidays, new URLs, events, and posters in the world.
You can find every version of Ground Zero ever here: Historical Ground Zeros
VIP Chats / the original AMA / the original simulcast
In these corporately hosted events, a VIP came online with a special pink nametag preceded by Guest-. They engaged with the community and answered questions while promoting something, whether it be a tour, merchandise, or something else.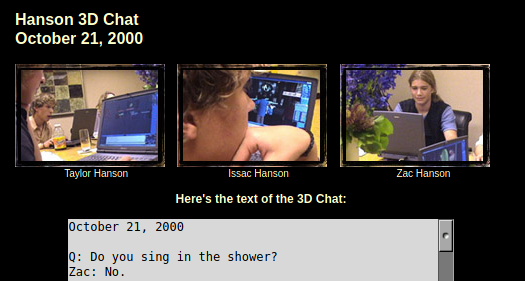 The music group Hanson headlined one such event on May 6, 2000. You can see a transcript a fan put together of the chat log in the section titled "Hanson 3D Chat" here as well as pictures and a Q&A on their archived HansonWorlds.com page.
While we haven't found archived event pages for other musicians with worlds on the platform, there have been users that recall David Bowie and Steven Tyler also making appearances on Worlds.

Celebrations
Birthdays
Within the Default Worlds, there are several places like the Birthday Room in Worlds Center that are intended to host birthday parties. Even Ground Zero may link you to the Happy Birthday page. On this page, you can see upcoming birthdays, birthday wishes/greetings, and upcoming birthday parties. Though this is no longer active, you could submit a birthday, birthday greeting, or birthday party by emailing birthdays@worlds.com.
There are also many custom worlds that have been created for one big birthday party for a particular person. Sometimes, the custom birthday world is active for that event and then retired by the creator the next day.
Marriages
As with many MMOs and MMORPGs, virtual weddings took place between users. Often, custom worlds were created just for the purpose of hosting a ceremony. Otherwise, ceremonies were held in church-like or stage-like worlds, like Bowie Church or Avro's Atlantis.
Holidays
Holiday parties have occurred on a seasonal basis. You can find many worlds, custom and default, have been created for such occasions like Christmas and Halloween.
Real Life Meet-ups
As can happen when people become friends online, they wanted to meet up in real life one day.
In 2003, there was a Worlds meet-up in the United Kingdom.
Competitions
Avatar competitions
Avatar creation is an incredible outlet for creativity. The community would hold one time events to show off and vote on unique avatars.
The last avatar competition was likely held about 10 years ago.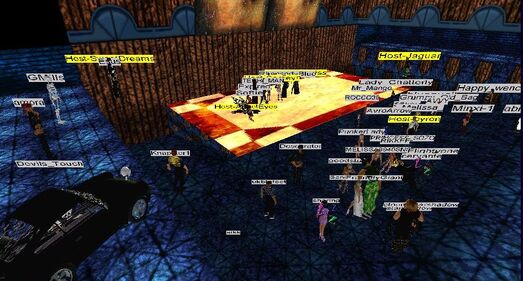 Winners of an avatar competition held in 2002:
Worlds-building competitions
The percentage of users that try their hand at creating a world is much lower than those who try to manipulate avatars, likely because building your own world requires a lot more time and dedication.
Thus, worlds-building competitions were less frequently held than the avatar competitions.
The last worlds-building competition was likely held about 13 years ago.
Memorials
Whether it is a memorial to those outside of Worlds or those involved in Worlds, custom worlds have been created as memorials for lost loved ones, often with users holding a one-time event in remembrance. Some custom worlds and newsletters memorialize tragedies that have occurred as well, like AceUK's world.