Description
Beach Gz is a Ground Zero hub that is very popular. In recent years, it is easily traveled to by teleporting to a permanently logged in Worlds user named Fallen_Angel.
Beach features an ocean, a sailboat at the end of a pier, penguins on the barby, and allows you to travel easily to other Jimbly-created worlds.
Author: Jimbly
Turn on Music?: Yes
This will be necessary for listening to the news clip about Worlds that is hosted here. Click Play Video on the wall above the pictures of Aerosmith World and Bowie World. This video is estimated to be from the year 2000 or so.
Easter eggs?: Yes
Significance
This is often the starting place for many new Worlds users in recent years. Namely because on the bottom right mini map, you can easily click to go to several locations that will get you exploring interesting places: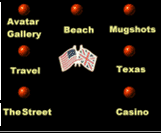 Rooms
Auditorium

is a sub-section of Ground Zero typically used for poetry / story events.

Travel

contains links to other user-created worlds.

Texas

is a room with a mirror that easily allows you to add different textures to different body parts of your avatar.

Gauntlet

is a series of rooms that prompt you to download every official / default world. This is a MUST because then you will have less issues loading textures in user-created worlds.
Image Gallery
Video playing in entrance

View of the sea
Worldsmark / URL
If you're unsure how to use this URL to visit this world, see the Basics guide.
http://users.worldsonline.com/users/jimbly/worlds/groundzero.world