Work in progress. Feel free to contribute. -DrFrasierCrane
Background
The 3D virtual chat platform known as Worlds Chat came online around April-May 1995, a pioneer in this particular genre of virtual spaces. Developed in the early months of VRML by a company called Worlds Inc. (formerly Knowledge Adventure Worlds), Worlds Chat originally only had 15 avatars to choose from, 20 rooms available to explore, and 2 worlds, Sadness and Glee.
Along the way, Worlds Inc. experimented with selling the Active Worlds gamma development kit to users or organizations for the development of their own virtual spaces. In this way, AlphaWorld (which later became known as Active Worlds) and Starbright World came to be their own platforms separate from Worlds Chat in the years following World Chat's inaugural release as the first 3D multi-user virtual space.
Artists
Helen Cho
Professional Site: Quiet-Time
Created many of the iconic 2D avatars on Worlds Chat promotional photography as well as the textures for the Space Station and Worlds Chat interface. Cho describes the limitations of the Worlds Chat engine on the texture colors...
"The palette supported primarily grays, browns, and blues."
Jeff Robinson
Professional Site: Scamper
Created the "better-lit alien" look of the Space Station, as well as (but not limited to) the Sky World, the Worlds Chat interface, the Aardog Avatar, the penguins, the End Bots, the Iris Airlock, the Energy Door, and the Worlds Chat CD Cover. All of the art was done on Macintoshes, and was produced using Photoshop and StudioPro, with some elements created in TextureShop and Bryce as well. Rather than being scanned, the source textures were all generated synthetically
Robinson stated that there were deadlines to meet that prevented further work on particular projects. For example, when describing the Worlds Chat CD Cover...
"There was originally a narrative for [the stars in the background] but any narrative was stripped from the project as deadlines loomed. Too bad."
Lynne Ann
Avatar and object-maker (source 1, source 2). Known as OKCAHA in AlphaWorld / Active Worlds.
Danny Viescas
Avatar and object-maker (source 1 , source 2). Known as Kalak of Tanagra in AlphaWorld / Active Worlds.

Musicians and Sound Effects
David Tolley
The composer and sound effect maker (based in San Francisco, California) worked for Worlds Inc. from 1995 -1997. This included writing music for Worlds Chat, AlphaWorld, Starbright World, and Nishho-Toppan (Worlds Chat Japan).
Development Team
1994
Management
Chris Cole (Peregrine Systems), Dave Gobel (Knowledge Adventure), and Cole Larson from Kinetic Effects Inc (Credo Interactive), founded Knowledge Adventure Worlds, merging their technologies to create 3D virtual environments (source).
Engineering
Dave Leahy, Andrea Gallagher, Wolf Schmidt, Judy Challinger, Syed Asif Hassan, Farshid Meshgali, Kurt Kokko, John Navitsky, Naggi Asmar, and many others (source 1, source 2).
Wolf Schmidt gives a brief history on early Worlds Chat exploits in Bruce Damer's Avatars! book.
1995
Management
David P. Gobel - Founder and Chairman of the Board
Rich Abel - C.E.O.
Jim Freeman - Senior Vice President of Development and Production
Joe Rehfeld - Senior Vice President of Business Development and Marketing
Christopher Dean - Vice President of Marketing
Steve Miller - Vice President of Sales
Bryan Dunkeld - Vice President of Production
Glenn P. Halstead - Vice President of Operations and Customer Support
Deborah J. Ludewig - Vice President, General Counsel
Engineering
An addition to the existing engineering team, Ron Britvich joined Knowledge Adventure Worlds, having previously worked on WebWorld (source). During this time under Knowledge Adventure Worlds, Britvich worked on AlphaWorld as well as Worlds Chat. Britvich was known as Protagonist in AlphaWorld / Active Worlds.
Misc
When Worlds Chat was launched in April 1995, the company name was officially changed from Knowledge Adventure Worlds to Worlds Inc.
By November 13, 1995 Worlds Inc. had filed a patent application for a "Scalable virtual world chat client-server system."
Around 1996, Worlds Inc. had several strategic partnerships and customers, including MGM, Visa, U.S. Department of the Interior, and more.

Worlds Chat Beta
During the beta period from 1995-1996, Worlds Chat was a free demo for any user that installed the 4-5 MB application on their Windows 95/NT or Windows 3.1 computer.

The End of the World
On September 13th, 1996, the final beta version (0.9a) included a patch that caused "major trauma" to the Space Station during an "End of the World" party. This included avatars for the occasion that had "THE END" in red across their chest, graffiti on the walls of the Space Station reading "IT'S OVER," and global chat messages announcing the impending doom.
There is not a lot written about this event, but we have some insight into the experience from a couple of accounts, like Worlds Chat user Odin:
"Light's flickered, windows cracked, avatars were tossed like popcorn, metal fatigue sounds and electrical short circuits could be heard, and pengies tagged graffiti on the walls. All this happened while a nearing red planet smashed into the Hub Center!"
Worlds Chat Official Release
Shortly after "The End of the World," Worlds Chat 1.0 was launched.
There was now a free demo version and the paid Gold version. The users on the demo version had limited avatars, could only explore the Space Station, and could not register a unique name (known as Guest-123...). Users on the paid Gold version had all avatars available to choose from, could explore several more worlds, and could register a unique username.
When CNET reviewed the software, the Worlds Chat Gold CD-ROM was $32.95 (USD).

System Requirements
Even then, Worlds Chat was a comparatively small and fast application, but it was the internet and networking hardware that could present challenges to some users.
Their minimum requirements were:
486DX/66MHz-or faster PC
Windows 3.1x, or Windows 95
8 MB RAM minimum (16 MB recommended)
24 MB hard-disk space minimum
256-color display
SLIP/PPP or direct Internet connection (14.4 kbps or higher)
2x CD-ROM drive (for installation)
16-bit sound card (optional)

How to Use
When launching Worlds Chat, you are met with a login screen where you can enter your username and choose from a list of limited avatars. Once you make those selections and log in, you are transported to the Space Station's Hub -- the entry-point for all users on the platform. Users could watch new avatars logging on as they materialized with a blue flash and accompanying sound on their arrival.
There are two available methods of movement: with your mouse or with your arrow keys.
By default, the client puts you in the state where your mouse movement allows you to slide through the virtual world. You slide and twist your mouse forward or backwards to move in a way that Damer compares to Doom. When you click your mouse, you then see a green walking man symbol on the bottom right and your mouse no longer alters the direction in which your avatar moves. This allows you to click on other menu options within the client.

You can also choose to use your arrow keys to move.
To chat with others, click into the bottom white rectangle, type something, and press Enter. You will see your username> followed by your message in the main chat.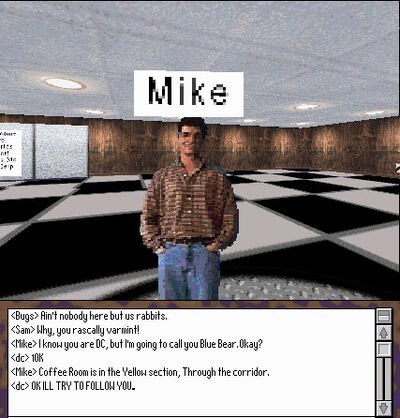 There is a proximity notion within Worlds Chat where your main chat displays the messages from the nearest several people in your cyberspace first.
However, you can also use the whisper feature to directly message someone in private whether you're in the same world/room or not. You can even click on Group Member to set up a private group whisper between multiple people.

You will also notice the ability to Mute people -- this prevents you from seeing what they type, but it will not prevent them from seeing what you type. They also have no way to know they have been muted unless told.

Worlds
On the bottom right is the Space Station mini map. The section that your avatar occupies is highlighted, and you can click on other parts of the station to teleport to that location.

Official
Hub
Sky World
Sadness
Glee
Garden
Gothic Pod
Avatar Gallery

User-created Patches
While this early iteration of Worlds Chat did not have the ability for users to create their own worlds officially, some users developed "patches" that could be seen by other users who had installed that same patch. For example, Morticia's Worlds Chat site includes several patches to the Observation Deck and Koi Pond.
Also, if you manage to hit door hinges by the entrances to escalators "just right," you can jump off the Space Station and float in space.

Avatars
Background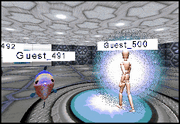 There were fourteen avatars to choose from initially. With more versions of Worlds Chat over 1995-1997, they added more avatars to the Avatar Gallery, specifically for Worlds Chat Gold users. If you decided not to choose an avatar from the gallery, the default avatar worn was Woody. Additionally, if you were using the Demo version and not the Gold version, users using Gold-only avatars would display as Woody avatars to Demo users.
Avatars in this early history were 2D "Holographic" avatars that consisted of 2 to 8 .bmp files depending on how many different views the avatar required. For example, the first .bmp may be the front view, the second the back view, and so on. Due to rendering and memory constraints, the .bmp images needed to fit in a 200x200 pixel square.
This multi-view approach to the avatars also created the right circumstances for the software to have nearby avatars turn toward you automatically. The person running the avatar did not actually turn to look at you necessarily.
Worlds Chat used (and continues to use in WorldsPlayer) a proprietary compression scheme to generate the avatars from those core .bmp files.

Customizing avatars
Worlds Inc.'s instructions on avatar file generation for Worlds Chat.
World Chat user Sting describes how to create your own custom avatar and share it with others here.

Norms
Verbal Language (source)
No cursing in main chat.
Do not interrupt others having a conversation in main chat until there is a natural lull (just like etiquette in real life).
English is not the only language users will use to communicate.
Use the muting feature sparingly, as it can cause confusion (since you cannot see what they type but they can see what you type).
Body language (source)
Walls will stop your avatar from going through them, but the same is not true for going through other avatars. It can be interpreted as rude to stand directly in front of someone's avatar in a way that blocks their view.
Idling
Some users will have their avatars idle in virtual space for a number of reasons -- they could have temporarily stepped away, are staying online in order to continue to receive messages from other users, and many more reasons.
Avatar use
People have different relationships with their avatar(s). They may wear an avatar associated with a group (e.g. Penguins / OPUS).
They may wear an avatar associated with the identity they'd like to present (e.g. Beach Girl, Cruzn Biker). Especially if they are a user who likes to create and/or download custom avatars (e.g. Sting's Place; Odin's Avatar Gradebook; BigLip's Avatar Database).
They may also be wearing an avatar due to a holiday or season (e.g. Santa).
Downtime
When Worlds Chat Gold was down due to server migration, some regulars would go to Worlds Chat Japan.

These groups would sometimes have special meetings, avatars, websites, and/or events.
Some evident groups or clans were:
Events
Las Vegas, Nevada, USA meet-up in 1998.

Management Changes
In November 1997, Worlds Inc. was acquired by Worlds Acquisition Corporation and changed the name to Worlds.com.
Odin's Account of that time 1995-1999
Scamper's mention of Worlds Chat CD Cover 2 and development ceasing

Transition to Worlds Chat Platinum / Gamma / WorldsPlayer
In 1998, the client known internally as Gamma or Worlds Chat Platinum was finally released for download on their website and as a CD-ROM.
Because of the release of Worlds Ultimate 3D Chat aka WorldsPlayer, previous Worlds Chat users had to say "goodbye" to their beloved Worlds Chat avatars. Some were memorialized in the Custom Avatar Mausoleum.
To continue reading about Worlds Chat's history from 1998-2010, click here.

Experience Early Worlds Chat
Starbright World
Description
In October, 1994 Knowledge Adventure Worlds announced a partnership with Steven Spielberg, Starbright Foundation, Sprint, UB Networks, Tandem, and Intel to create a 3D virtual world for kids confined to hospitals, Starbright World.
The concept of Starbright World below is described by Tamiko Thiel, Creative Director of the virtual worlds project from 1995-1997:
[Starbright World's] purpose is to give seriously ill children a virtual community where they can meet and play with other children regardless of their physical condition or location. It will be a place to explore the healing properties of community, communication, and participation.
The Starbright World project was spearheaded by Tamiko Thiel, Steven Spielberg, and the Starbright Foundation, a sister charity of the Starlight Foundation. The 3D virtual world known as Starbright World was active in a beta test from 1995 - 1997. The Starbright and Starlight Foundation had also been working with Nintendo of America around that time to provide a VCR, television, game console, and game cartridges to terminally ill children in hospitals.
With the corporate backing of not just Worlds Inc., but also Intel, UB Networks, and Sprint, Starbright World grew to be a separate code base from Worlds Chat -- even using an ATM network, rather than the "regular phone lines and 14.4 modems" that Worlds Chat used. Intel provided the computers, UB Networks provided the ATM networking infrastructure, and Sprint provided the local network connectivity (1, 2). On its website, pediatric hospitals could apply to use the Starbright World client for their terminally ill patients. Six hospitals across the US took part in the initial beta test for Starbright World (3, 4).
Furthermore, Starbright World had a different mission, graphic design, avatars, functionality, and worlds. Worlds in the Starbright universe included Tropical World, Sky World, Cave World, and a Building Zone (5). Each world was meant to have a different atmosphere and vibe. As Tamiko Thiel puts it, "Sky World is meditative and serene; Tropical world is riotous and kooky; Cave world is mysterious and dramatic," (6, 7).
Functionally, Starbright World also supported voice communication for children to alternatively communicate and engage in the virtual playground.
Thiel mentioned in an interview with the New York Times that they hoped to develop more features for the children to build upon the world, like create permanent graffiti, play their own music to other children, and create objects that would remain in the world for all children to see. From the documentation that exists about it, it seems that they were able to implement some of those features, allowing children to use blocks and other basic objects to develop rudimentary sculptures, create custom avatars, and play in the virtual space together.

Transition away from a 3D Chat Platform
Because the ability to stay connected and engage with friends or family was such an important part of the mission, it became a challenge to keep that sense of community once the children moved from the hospital back into the home. In addition, during this time (1994-97) computers and in-home internet that could support the Starbright World client were not something available in every home. Lastly, the children were asking for more from the platform than could be provided at the time, like putting medical concepts into more understandable terms and having a wider variety of games available.
Thus in 1997, they transitioned away from using the 3D virtual world platform and instead focused on creating a community via a multimedia website. The private social media website stayed online from 1999 through 2015 and continued to be advocated for by Steven Spielberg, Norman Schwarzkopf, Peter Samuelson, and Eric Pulier. It reached many more hospitals this way than during the beta, with President Bill Clinton citing a purported goal of expanding it to 100 hospitals in 1999.
Though just a few years online, several academic studies surrounding Starbright World were developed.
Explore Starbright World
AlphaWorld
Background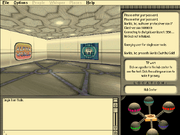 Originally a sub-section of Worlds Inc. when it launched its beta in 1995, AlphaWorld came to differentiate itself formally in 1997 when Worlds Chat and AlphaWorld split. Worlds Inc. sold the AlphaWorld section of their business to Richard F. Noll (E N Z O) the sole proprietor of Circle of Fire Studios. AlphaWorld later became what is known as Active Worlds today and renamed Circle of Fire to ActiveWorlds.com.
Difference between AlphaWorld and Worlds Chat
AlphaWorld was different from Worlds Chat in many respects, including having a different business development focus. Worlds Chat was released first as a showcase of what an easily accessible 3D virtual space could be. As such, its use of avatars, space, and text communication paved the way for AlphaWorld. After visiting Worlds Chat for the first time, members of the Contact Consortium Group "pleaded" for Worlds Inc. to allow users to create their own worlds or objects (source).
AlphaWorld was launched months later with a focus on generating user-created content (namely, .rwx objects) that would inspire more users to join the platform and grow it. It also allowed users to build in different areas of the same contiguous world.
In 1997, Worlds Inc. was focusing on developing its Gamma or Worlds Platinum client (later known as WorldsPlayer) to partner with corporate sponsors in developing virtual websites and partner-specific worlds (source). When WorldsPlayer launched as Worlds Ultimate 3D Chat in 1998, AlphaWorld had already formally split from Worlds Inc.
WorldsPlayer, World Chat's new Java-based client, allowed users to create their own worlds (as opposed to building in the same world at the same time) with a proprietary tool called WorldsShaper.
Web-of-Worldstm
The Web-of-Worlds was an early concept for differentiating the worlds created with the Active Worlds Development Kit from the existing Worlds Chat client. Despite the team working on this project at least a year before this, the term Active Worlds Universe was not official until July 17, 1996.
If you wanted to create your own world and foster its own online community, you could enlist in one of the classes (source) and purchase world space.
There were 3 components that contributed to the Active Worlds Web-of-Worldstm.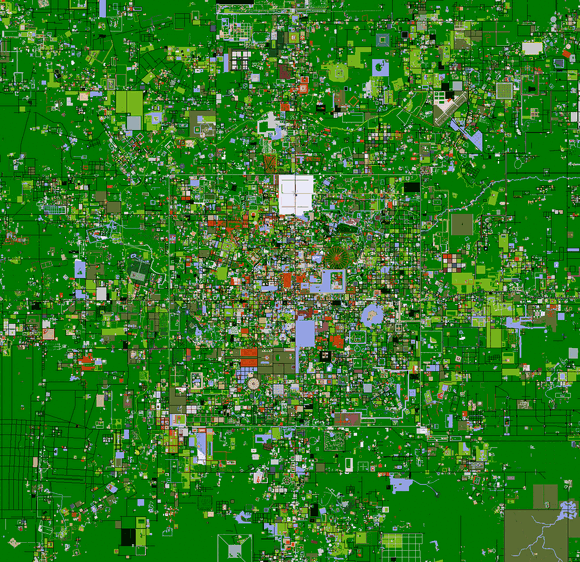 Avatars
Mauz describes a timeline of AlphaWorld / ActiveWorlds, including the changes in avatars along the way. In this section, we'll pull out the avatar timeline specifically, but feel free to read about the other details of incremental improvements on Mauz's archived site.
1995
January 23rd - Cy avatar's predecessor was Chappy.
June 28th - people on the beta could start reserving identities and citizenship assignments. The only avatar available was Cy.
1996
January 26th - Version 0.62 introduced the Butch, Harold, Helmut, Marsha, Shanubia, Shred, and Willy avatars. It potentially also introduced the Dredd avatar.
February 20th - Version 0.68 introduced the Barbra, Caldius, and Hotep avatars.
April - Colony Alpha world by Moria was released, which included new textured avatars.
July - Articulated avatars featuring animations (or sequences / .seq files) created by Pam Fort, a dancer.
September - Custom avatars created for Yellowstone National Park world.
October 14th - Tanya and Kelly avatars introduced.
October 17th - Version 1.00 released, including avatar perspectives fix, as well as "explicit actions" or avatar gestures.
November 14th - The Active Worlds Server software also known as "Web of Worlds" is publicly announced.
December 26th - Gray avatar released in Colony.
1997
June - Ken avatar introduced.
1998
March 1st - Thirty three new avatars introduced. Specifically: Aaron, Alicia, Becca, Bike, Cedric, James, Kim, Morjay, Philippe, Rachel, Sarah, Shredd, Todd, Vanessa, and Virgil; old remaining: MrTourist, MsTourist, Birde, Butch, CY (NeoCY), Dredd, Gray, Harold, Helmut, Hotep, Jenna, Ken (modified), Lori, Rick (modified), Shanubia, Shred, Tanya, and Willy; away: Barbra, Bill, Brad, Caldius, Kelly (2), Marsha, and NeoCY (CY).
April 20th - Version 2.0 build 251 introduced "more special avatars."
Events
Chief Designer of the platform, Ron Britvich (Protagonist), would DJ and host Trivia as well.
TheU Virtual University Architecture Competition
Memorials (e.g. one for a user named Kaci, another one for Princess Diana)
Large Gatherings
Experiments
Sherwood Village Community Project was featured in the Web-of-Worlds early on. You can find more experiments and history here.

Music
You can listen to the music heard at AWGate here. They were all MIDI files.

Explore AlphaWorld
AlphaWorld still exists! You can just download Active Worlds, then go to the "AW" world, and type in 0n 0w for the coordinates.
Worlds Chat Japan
Background
Placeholder. Feel free to add to it!

Explore Worlds Chat Japan